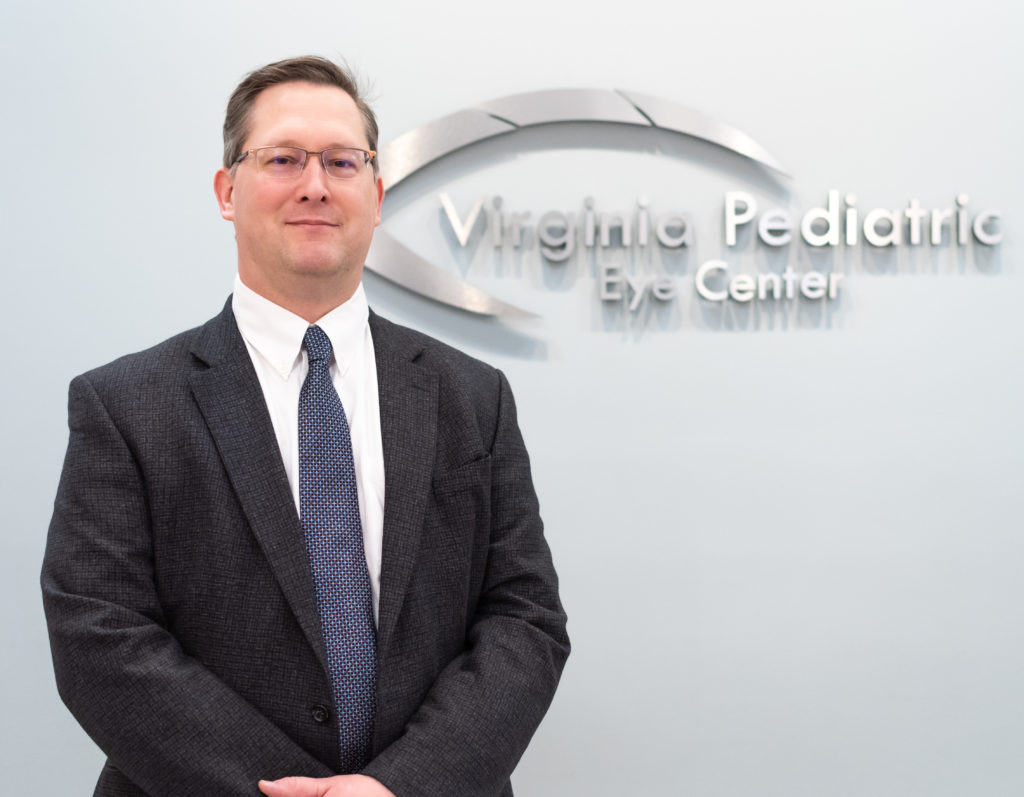 Dr. Eric Crouch is board certified by the American Board of Ophthalmology and is a Professor of Ophthalmology and Professor of Pediatrics at Eastern Virginia Medical School. He completed an ophthalmology residency at Geisinger Medical Center and a fellowship in pediatric ophthalmology and adult strabismus at Children's National Medical Center in Washington, D.C. He has authored numerous ophthalmology publications and has regularly presented at the Association for Research in Vision and Ophthalmology meetings and at round table discussions at the American Academy of Ophthalmology annual meetings. He currently serves as Chief of Ophthalmology at the Children's Hospital of the King's Daughters and previously served as Chief of Ophthalmology for the Norfolk-based Sentara Hospitals from 2006-2008. He has received a Top Doc of Hampton Roads award multiple times and received the Distinguished Teaching Award for the Department of Ophthalmology in 2013. He became a full Professor in both the departments of Ophthalmology and Pediatrics in 2017.
Dr. Crouch is also actively involved with the National Institute of Health/National Eye Institute Pediatric Eye Disease Investigator Group. He was elected vice-chair of the Pediatric Eye Disease Investigator Group (PEDIG) in 2014 and has served on several PEDIG's operations committee and executive committee meetings over the years. He is protocol chair for the Study in Adult Strabismus (SAS1), a NIH funded adult strabismus protocol. PEDIG is a collaborative network dedicated to facilitating multi-center clinical research in strabismus, amblyopia and other eye disorders that affect children. The network, which was formed in 1997, is funded by the National Eye Institute (NEI). There are currently over 100 participating sites with over 700 pediatric ophthalmologists, pediatric optometrists, and staff in the United States, Canada and the United Kingdom. His practice remains active in numerous clinical trials and provides some of the latest available treatments in pediatric eye diseases.
Dr. Eric Crouch is trained in the management of pediatric and adult strabismus, pediatric cataracts, and a variety of amblyopia treatments. For cases of chronic tearing, Dr. Eric Crouch performs nasolacrimal duct probings, dilations, canalicular stents, and endoscopic dacryocystorhinostomy procedures. For select strabismus cases he offers adjustable suture strabismus surgery. He also manages pediatric eyelid disorders, congenital ptosis, pediatric glaucoma, and general pediatric ophthalmology conditions. His special interests include craniofacial disorders, genetic syndromes, congenital disorders, retinopathy of prematurity, chemodenervation for strabismus, blepharospasm, and hemifacial spasm.
Dr Crouch and his staff are best. He has taken care of all my three kids. He's always on top of their condition: nystagmus, strabismus, esotropia, retinopathy of premature... you name it and he's there. His staff very friendly and professional, A++ and above service.
Dr Crouch performed strabismus surgery on my son. We were very happy with him and the entire practice! Highly recommend!
Dr. Eric Crouch and his staff are wonderful. I had surgery on 9/26/19 to correct issues with both eyes. It is now seven (7) days later and my eyes are great. He corrected the muscle structure of each eye; they are perfectly centered again, no double vision and there has been very little discomfort. I am extremely pleased and most happy that my local eye physician, Dr. Matt Klocek, referred me to Dr. Crouch. I am blessed to have these two great physicians!
We've spent some time away from Virginia Pediatric Eye Center, 8 years to be exact. Same great service in a wonderful new office. We tried other avenues for my children's eye care and none have been up to par. Very grateful to have Dr. Crouch back in our lives.
I have never been to a doctor like this! Dr. Crouch is the absolute best, he is so knowledgeable and always specifically meets the need of your child. He explains his plan to correct any and all vision issues and answers any questions you have. His staff is very respectful, kind, and patient. Every person has a great attitude and they are always smiling. On top of all this his office is state of the art and new. We were blown away by his expertise and my child left happy. He has a reputation for being one of the best children's eye specialists around, it's definitely true!
Dr. Crouch started following my son in the NICU in 2014. He is an AMAZING doctor and very knowledgeable. We have had several different eye surgeries and due to Dr. Crouch staying on top of the few issues he had he has vision equivalent to a 4yr old that was not a preemie.
Dr Crouch and his staff are amazing! They have been taking great care of my daughter since the week she was born. Dr Crouch is highly skilled and I trust his expertise and experience when it comes to my daughter's eyes and vision issues. Charmaine is great with my daughter and can always make her laugh. She is very skilled in finding the perfect glasses and fit! Everyone who works there is very patient with children; which is awesome! The new office is beautiful and in a very convenient location. I would definitely recommend Virginia Pediatric Eye Care Center!
We love Dr. Eric and his staff!! We have taken our youngest there since she was days old (she is 9) and we have always had lots of good care and attention. Dr Eric has been super informative and the staff helpful during her "needy" times over the years with all her eye issues. The new office is a plus. We love the location.